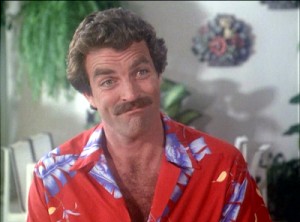 I'm staring at her animated features from across a half-eaten slab of flounder and a mostly-empty glass of Chardonnay. She drones on. Still pretty as when I first met her, but I wonder if I were to choke on an errant bone if it would give me an excuse…
No such luck.
You wouldn't think it possible that any one person could know this much about Magnum, P.I. Much to my surprise, you would be wrong. I bet she could recite every word of the script of every episode by heart. Apparently, she maintains her own very complete "Nitpicker's Guide to Magnum, P.I." site on the web. I say "apparently," because I haven't seen it myself. Probably only two or three people in the universe have. I chuckle at the thought. I guess the chuckle is well-timed, because she doesn't seem offended.
Rather, she nods enthusiastically. "Really!" Her eyebrows shoot up, eyes wide. "No kidding!"
"But what bugs me most," she says, "is how he always lets people walk all over him."
I'm not as expert as she is, but I recall Magnum as a hard-boiled, Vietnam vet, an '80's TV private-eye, fearless and shrewd, the sort of guy who could whoop ass in a bar-fight but knows better than to get into one. Don't let any of that give pause to her tirade. I guess the good-looking, sensitive, Hawaiian-surf image works even in the 21'st century.
Or maybe it's Tom Selleck's mustache. He's wearing a goatee nowadays, isn't he? I reach up and stroke my fingers around my own mustache and goatee, wondering whether it has anything to do with why she's on a date with me.
"I don't know," I say. "Don't you think that he would have been less interesting a character, if they had written him without those faults?"
She stares at me, puzzled, as if I had just proposed that water was a dry liquid. "I suppose you're right," she says. "That certainly wouldn't feel right." Her face falls.
Oh yeah. A dream date. Or a nightmare. And stuck in it for another hour, because of the Chardonnay.
We eat in silence for several minutes, listening to the din of conversations we aren't having, interrupted by the occasional clatter of a glass or plate from a dinner we aren't enjoying. I happen to glance across the table. Her head hangs low; a clump of her hair is painting tiny, abstract lines onto her green beans. I smile without thinking. Something about her endears her to me. Sometimes we don't understand why we fall for the ones we love.
"Jeanette?" I say.
She lifts her head. "Yeah?"
I reach across the table and push the wayward strands behind her shoulder. "Will you share my favorite dessert with me, if I share your favorite episode with you?"
Something tells me she has them all on DVD.
Did you enjoy this post? Why not leave a comment below and continue the conversation, or subscribe to my feed and get articles like this delivered automatically to your feed reader.